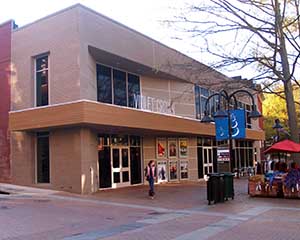 Eat Your Dinner at the Movies at Violet Crown Cinema
When Vinegar Hill shut down a couple of years ago, it prompted reactions ranging from mildly disappointment to utter devastation. It was one of the most unique institutions to land in the Charlottesville area, with its penchant for art house films and first-runs. It looked like our only options were the Regal Cinemas on the Downtown Mall and at Stonefield (multiplexes with all of the latest Hollywood flicks) or digital streaming services that kept us at home. Were we doomed to consume big-budget blockbusters for the rest of our days, or else wither and atrophy in front of the Netflix screen?
Not so! Violet Crown Cinema has opened up in the building where the Regal used to be, downtown on some of the best real estate in Charlottesville. This is the third Violet Crown location (the other two are in Santa Fe and Austin). It's save to say that, compared to multiplexes like the Regal chain, this new theater offers a completely different cinematic experience. The open, inviting space has deep purple walls and invigorating light. Walking past it on the Mall, you can see clearly into its open bar and cafe-style restaurant. That's right, the cinema has a full bar, featuring a couple of novelty pun-ridden cocktails like the Bloody Carrie (a take on the Bloody Mary named after the 1976 film Carrie, whose star Sissy Spacek owns a farm in Albemarle County).
The establishment also has a restaurant that aims to use locally-sourced ingredients from Charlottesville farms and other area farms in central Virginia. Right now on the menu you can get beer brats and hotdogs made from Wagyu beef, as well as fries and pizza with more culinary innovations to come. They're also working with Albemarle Baking Company for fresh bread and Feast! for delicious cheeses and charcuterie and aim to reach out to many other Charlottesville businesses, incorporating the town's local food ethos.
The cinema itself has 10 screens; three smaller screens tucked away behidnd the bar and seven larger ones upstairs. Each room seats between 60 to 160 people at a time, and all the seats are pretty solid, (even those annoying front row seats that you get when you're seeing a crowded film…you know, the ones where you have to crane your neck to get a good look). As far as films go, the cinema offers substantive films, many of them independent art house flicks or foreign films. These are the types of pictures celebrated at the film festivals in Tornto, Berlin, or Cannes…so naturally they are not the types of films you could see at the Regal. This writer's favorite offering is Jafar Panahi's Taxi, a 2015 documentary-like portrait of the city of Tehran. But there are several other great films to check out, and you can enjoy a drink and a bite all at the same time. Your one-stop-shop for dinner and a movie!