Ah, the sandwich. One of Britain's greatest gifts to gastronomy in general and the working class in particular. Though praised by those who have to walk around while they eat, this versatile, utilitarian food item is credited to John Montagu, 4th Earl of Sandwich. Like its Mexican cousin, the taco, or its Mediterranean counterpart, the gyro, the sandwich has endured throughout centuries. Charlottesville–whose central Virginia land is fertile ground for both the farm-to-table movement and an overall appreciation for all things craft food–has more than its fair share of dynamite sandwich shops. But, alas, this is a top 5 list, and it's our job to bring those 5 to you. Without further ado:
1. Ivy Provisions
Ivy Provisions (or IvyP, as it is affectionately known) is like something out of a dream. It's a smorgasbord of creative sandwiches ranging from light and fresh to coma-inducing, and everything in between. While $8-10 is a little steep for a sandwich, you definitely get what you pay for at this place, with its emphasis on local ingredients from Charlottesville. At the helm here is Tommy Lasley, former head chef of Orzo and part-owner of Fry's Spring Station Pizza. The concept is quick, inventive sandwiches and salads with high-quality ingredients. A long-lasting partnership with The Rock Barn means that local pork raised and butchered on Nelson County farmland is a given. Whether you're thinking about sandwiches like the Notorious P.I.G. (salami, prosciutto, Rock Barn capicola, provolone, peppers, onion, lettuce, oil & vinegar), or the specialty off-menu Cvilly Cheese (roast beef au jus, grilled onions, hot peppers, and sweet peppers with a smoky, creamy cheese sauce), every option is available on a bed of greens instead of a sandwich (although we're not sure how a steak and cheese sandwich would work out). Their breakfast and espresso options are nothing to scoff at either. The Sloppy Jose is a brilliant chorizo, egg, and pimento sandwich on an English muffin.
Favorite sandwich (pictured above): IvyP Banh mi-roasted pork, pâté, ham, cabbage, cilantro, pickled vegetables, mayo & chile oil served warm on baguette
2. Revolutionary Soup
Soup, salads, and sandwiches…the trifecta. This Cville staple has locations on the pedestrian downtown mall and The Corner (by the University of Virginia). The staff is friendly, polite, and incredibly good at their work, churning out thoughtful craft sandwiches with efficiency during one of the most infamous lunch rushes in the downtown Charlottesville area. Their fare extends beyond the strict territory of the "sandwich," with items like quesadillas and shrimp and grits providing some alternatives. The titular soup is a must for any rainy day; this author had the flu one week and pretty much lived off of the lamb curry, with its spicy lentils, spinach, and cilantro. Whenever possible, Rev Soup (as it's known in the neighborhood) strives to use local ingredients. A big part of their philosophy is sourcing ingredients from farms in central Virginia and the surrounding areas, whether it be bread from Albemarle Baking Co. or BreadWorks, or tofu from Twin Oaks Farm in Louisa, etc. At the end of the day, you can drop by for a $3 grilled cheese on bread baked 10 minutes away and delivered that morning. Sounds like a win to us.
Favorite sandwich (pictured): The 90's Club-local chicken breast, bacon, cheddar, avocado, lettuce, tomato, red onion, and a house sauce on a kaiser roll
3. Littlejohn's
Remember that part about sandwiches being utilitarian? Littlejohn's is maybe the only 24-hour restaurant in Charlottesville proper (with the possible exception of Waffle House). They don't boast any fancy local ingredients, but the fact of the matter is, when you are hungry and alone after a night out, Littlejohn's is there for you, with a hot, fresh, greasy sandwich and a big glass of water. (When you watched the movie Psycho with its creepy shower scene and jarring use of violins, you woke up at 5am with nightmares and Littlejohn's had a bacon, egg, and cheese breakfast bagel ready for you, and a big glass of orange juice to wash away the night terrors. When you were in the library cramming for your 9 am final and your body started crying out for food…well you get the idea.) Dependability is a decidedly utilitarian feature in any sandwich shop, and so we must pay homage to LJs, our rock. It's not just greasy goodness either. They have an entire chalkboard devoted to "lighter fare" which includes some flatbread delicacies and salads that are not terrible. But after a long night, you might just want to double down and opt for something with bacon, butter, and cheese. You deserve it. We know you do.
Favorite sandwich: Chipotle chicken-shredded and seasoned chicken, spicy chipotle mayo, bacon, sautéed onions, lettuce, tomato and melted provolone (hot peppers optional).
4. Bellair Market
We almost feel guilty including Bellair Market on this list. A little lunch counter, tucked away inside an innocuous Exxon Tiger Fuel gas station, Bellair Market is one of the city's best-kept secrets. Once you get the lay of the land in Charlottesville, it's hard to overestimate the value of a well-kept secret…especially when it comes to food. Technically the "Market" has a few locations, but it's important to note that the sandwiches at the Ivy Road location are the sole reason for the Bellair's inclusion on this list. In true Cville fashion, Bellair's specialty sandwiches are named after regions in the greater Charlottesville area. Often, these are rural areas in central Virginia; for example the Keswick (country ham, swiss, honey mustard, lettuce, tomato, herb mayonnaise on French bread), the Earlysville (sweet ham, turkey, smoked gouda, bacon, lettuce, tomato, and herb mayonnaise on sourdough) or the Montpelier (rare roast beef, cheddar, lettuce, tomato, and horseradish mayo on French bread), named after James Madison's famous estate in Orange County. Gas station gourmet is a staple of the South, and Charlottesville in particular, so we had to include this gem.
Favorite sandwich: the Jefferson-maple turkey, cranberry relish, cheddar lettuce, herb mayonnaise, french bread
5. Market Street Market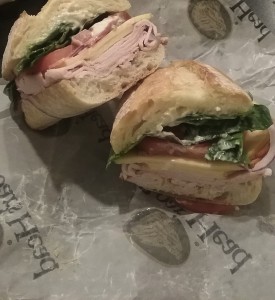 Like Revolutionary Soup, Market Street Market is located just off Charlottesville's downtown mall. It's right on Market Street, making it a popular pop-in for busy retail and office professionals, lawyers, city officials, and all hungry people. The bulk of the space is devoted to a small, upscale grocery store with a wealth of locally sourced products including produce from surrounding central Virginia farms, fresh baked goods from Albemarle Baking Co. and Mission Home (try the peanut blossom cookies!), and a great craft beer selection. But the deli is the heart of the store, the ever-churning furnace that breathes life into the establishment and its patrons. At this juncture it's worth noting that Market Street Market has some of the classiest background music of all time, and it's the perfect volume (audible but not distracting). You can build your own sandwich starting at $3.99. But there are some truly inspired specialty sandwiches and salads. The gals and guys at Market Street Market run a tight ship and service is pretty fast, but don't be surprised if you stop in at 11:15 and end up waiting 15 minutes. The key is to pop by just before or after the lunch rush hour…but there's no hurry, because this deli is serving fresh, made-to-order sandwiches until 8pm!
Favorite sandwich: Custom-cracked peppermill turkey, smoked gouda, spinach, tomato, red onion and mayonnaise