We all know it's one of the best places to live; this much has been confirmed by both domestic and international sources. We love it so much we couldn't limit it to 50 items. So if you happen to land in Charlottesville, keep this master list in mind.
#53 The Fall Okay so granted, this one is a little vague. I mean it's not like it's the only city with autumn, but property in central Virginia is perfect for watching the leaves change, and there are some truly gorgeous fall days. Other items on our list further prove this point, so read on!
#52 Festival of the Book An annual Charlottesville tradition, the Virginia Festival of the Book takes place on the Downtown Mall every March…and has for 22 years going strong! The literary wave brings celebrated authors to be guest speakers and features workshops and book sales. No matter how good this list is, it's not a substitute for a good book.
#51 Secret Societies Secret societies have been a part of student life almost since UVa's beginning. While the idea connotes an elite aristocracy, groups like the Z, 7 and IMP societies have extensive records of philanthropy and do a lot of wonderful things for the community.
#50 Musician-friendly Not every town is guaranteed this, and Charlottesville was recently hit with the loss of maybe its best store a few years ago, when Cville Music closed its doors for good. But there are still great places to grab some gear, scope out some deals or buy a high-quality instrument. There are also a wealth of places offering private lessons, renting out recording studio space, and providing crucial repairs. Stacy's Music is a great place to get lessons, chat it up with some pros, and especially to get repairs and tune-ups for your instruments with a personal touch (ask for Rob). There is also Specialty Guitars Plus, which has an exhausting amount of equipment, including a land of lore and fable known only as "The Bass Room." You've got Universal Electronics for repairs, Bay1 Studio for recording, and Music and Arts for everything else.
#49 Fridays after 5 Held during the warmer months at the nTelos Wireless Pavilion, Fridays after 5 is a weekly concert series featuring local and regional acts from all over the Greater Charlottesville area. The music is free, and local vendors serve up tasty food and cold beer for the duration of the show. TGIF indeed.
#48 Morven Farm John Kluge was a businessman and philanthropist who contributed much to city. He donated over 7,000 acres of farmland in Albemarle County to UVa in 2001. The UVa Foundation retains 2,913 acres, called Morven Farm where a variety of programs–from agricultural classes at the Summer Institute to leadership classes at the Mandela Washington Fellowship for Young African Leaders–are held.
#47 La Michoacana Authentic Mexican cuisine at extremely reasonable prices? If it sounds too good to be true, you haven't been to this classic spot on Little High Street, the midpoint between downtown Cville and Pantops. Everything on the menu is good, especially the tacos: $2.50 for chicken, barbacoa, carnitas, al pastor, beef tongue and many choices…topped with chopped onions and cilantro.
#46 Bluegrass The land in central Virginia falls smack dab in Appalachia and so bluegrass is the lay of the land in Charlottesville. From local groups like Mando Mafia or the Weedeaters to more established players that pass through town (Sam Bush, the Travelin' McCourys etc.), Cville is something of a bluegrass oasis.
#45 Monticello Thomas Jefferson's historic home at Monticello is located a few miles outside Charlottesville, on land in the Piedmont region. It's been restored and rebuilt for more than 40 years and you can tour everything from Jefferson's house, to the gardens to old slave quarters year-round.
#44 Atlas Comics Every town needs a solid comic book store and Atlas claims to be the premier brick-and-mortar comic book store in central Virginia. They've got over 75,000 comics in stock at one time, and employees who can answer virtually every question about your favorite super hero, sci-fi series, or conspiracy theory.
#43 The Brew Ridge Trail This self-guided stretch of hoppy highway is in the shadow of the Blue Ridge Mountains. A scenic drive includes some of Charlottesville's favorite local beers: Blue Mountain Brewery, Starr Hill, Devil's Backbone and Wild Wolf. Bring a driver.
#42 Bike country While we aren't quite as bike-conscious as our neighbors to the east in Richmond, Charlottesville is taking steps to integrate the cyclist into its road plans. There are already bike racks on city and UVa buses and plans to address bike corridors on some of the more crowded roads. There are also some spectacular bike trails, like the Rivanna, O-Hill, or Walnut Creek that can be challenging for even experienced bikers.
#41 CLAW The Charlottesville Lady Arm Wrestlers (or CLAW) are a fierce group of femme fatales who engage in friendly competitive arm wrestling. It started out as a joke league between some friends and took off in 2008. The inception was held at Blue Moon Diner and that's still the headquarters as far as we know.
#40 Shenandoah Joe Every town has their coffee merchant. Shen Joe is near-ubiquitous in Charlottesville, sold in many stores and restaurants in addition to having three locations on the Corner, on Ivy Road, and on Preston Avenue. Each batch of sludge is individually roasted with meticulous care, and you can bring home several different types of coffee from the world over. Many of these are fairtrade and organic certified.
#39 Live Theatre The Ville has a couple of places to enjoy live theatre, and you really get to enjoy the range of performers, from students putting on shows at UVa's Culbreth Theatre to locals producing shows at Live Arts downtown or at the newly-established Gorilla Theatre. The material is also pretty varied, from student-written and produced plays to some of the classics.
#38 The Lighting of the Lawn A more recent UVa tradition, "Lighting of the Lawn" is a celebration of the winter season. In early December, a student-written holiday poem is recited and around 22,000 lightbulbs are hung around Grounds, lit up each night until the end of the semester.
#37 The Lawn Especially with the Rotunda undergoing perpetual restoration, the Lawn is perhaps UVa's most prominent symbol. It's the site of graduations, commencement speeches, and other events. There are also 47 rooms available for fourth year students, and living on the Lawn is one of the highest honors a UVa student can have. Tradition also designates the Lawn as the place where inebriated college students go streaking…thanks Jefferson!
#36 Virginia Film Festival The Virginia Film Festival (this year Nov. 5-8) has been held in Charlottesville since its inception in 1988. Put on by the College of Arts and Sciences, the festival does a good job of bringing the school and community together. It also gives film fans in the the Ville a chance to catch unreleased and limited release films at many different venues.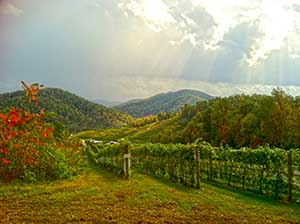 #35 Wine country Charlottesville is something of a Mid-Atlantic wine mecca. There is a rich viticultural tradition in the area, in no small part due to Thomas Jefferson's passion for the beverage. Monticello American Viticultural Area is located on land in central Virginia and provides ample terroir for some excellent vineyards including Blenheim Vineyards, Jefferson Vineyards, Trump Vineyards and many more. Drink up.
#34 Burgers Charlottesville is consistently lauded for its stellar cuisine, and there are many different types of food here. But there is a seemingly endless stream of burger joints: Citizen Burger Bar, Rapture, Miller's and Jack Brown's, Boylan Heights and the White Spot on the Corner, Riverside near Pantops and probably about a dozen others that we missed. Hungry yet?
#33 First Fridays On the first Friday of every month, various art galleries in Charlottesville open up their doors and showcase featured artists for First Fridays. It's generally more crowded during the warmer months, but the truly dedicated can enjoy original work at least once a month. Participating galleries include the McGuffey Art Center, UVa's Fralin and Ruffin Galleries, 2nd Street Gallery and many others. Wine and food are usually standard.
#32 Walnut Creek A veritable outdoor wonderland, Walnut Creek sits on 525 acres of land in Albemarle County, specifically North Garden. The park has everything…canoes, fishing (with a healthy supply of channel catfish and largemouth bass), 15 miles of trails for hiking and biking, and a disc golf course with 18 holes! You'll never want to go back inside.
#31 Fireworks at McIntire Park You can always count on a beautiful, bombastic fireworks display at McIntire Park on the 4th…Cville definitely does this right. Watching from different spots in the downtown area, literally thousands of people can bask in the revelry, completely free of charge.
#30 The Quarry Cliff-diving has never been this close. Located 30 minutes south of Charlottesville, off of 29 South, the quarries have jumps of various heights. Some of these quarries are tough to get to and some are literally in people's backyards, so be discerning. Some of the jumps are 40 feet high! But don't worry, there are baby jumps too, and we won't tell anyone you got scared when you did the 15 foot jump.
#29 Late-night grub Call it a perk of living in a college town but for a city this small, Charlottesville has a surprising number of places to grab a late night bite. There are old standbys on the Corner like the White Spot, Christian's Pizza and LittleJohn's N.Y.-Style Deli (which is open 24-hours and has a severely underrated breakfast menu). Then you've got options like Jack Brown's Burgers, Benny Deluca's giant pizza, Waffle House, Wings Over Charlottesville (delivery chicken wings until 3am on weekends??) and more.
#28 Local chains Definitely not unique to Charlottesville, but still pretty cool. There are a handful of restaurants around here that are littered in different spots around the city. This has a very unique effect…you get your small-town, hyperlocal feel, but you can get it at multiple places. And each location does it a little bit differently, so everyone has their favorite spot. There are three incarnations of Bodo's Bagels, Christian's Pizza, Sticks Kebab, and Shenandoah Joes, four places to get Mudhouse Coffee, and two Little John's locations.
#27 The Paramount Theater The Paramount is a diverse, flexible venue where anything is possible. On any given night you may go see a contemporary bluegrass group like the Punch Brothers or a jazz legend like saxophonist Wayne Shorter. The next morning you could go in to catch a UVa basketball game or Virginia Film Festival screening. One of the older venues in the city, it was recently restored and has a diverse cultural offering.
#26 Farmers' Market With its proximity to so many central Virginia farms, Charlottesville offers a quality farmers' market 7am to noon in the warmer months and 8am to 1pm in the colder times of the year. Fresh, organic produce, pork, poultry and provisions as well as handmade arts and crafts and live music. It's a great start to the day, and a reason to hop out of bed on Saturday morning. If you're an early riser, it's the place to be.
#25 "Ethnic food" If you cruise through Charlottesville expecting BBQ, fried chicken, burgers, and subs….you got 'em. But you also have half a dozen Indian places to choose from. You can pick up some green curry or pad see ew from Pad Thai, Lemongrass, Monsoon or a host of other places. There are even a few places with the Vietnamese soup pho,Caribbean cuisine and even Ethiopian. Dig in.
#24 Lampo Noun. Italian for "lightning"; also the name of an authentic Neapolitan pizzeria, certified Vera Pizza Napoletana. The owners shipped in a 3-ton brick oven from Italy and serve up pizzas at a rapid-fire, using only wood to get the oven up to 1,000 degrees. You can't go wrong with this level of dedication.
#23 Twisted Branch Tea Bazaar In a land where coffee is king, the Twisted Branch Tea Bazaar is a refreshing alternative. Browse a huge selection of teas: aged teas, blooming teas, white teas, Chinese and Japanese greens, black teas, house blends and yerba mate. They are also one of the town's only hookah bars, and a site for several kinds of alternative music. They  help host a month hip-hop showcase that features several underground rappers. Cool spot for sure.
#22 Hiking It's our belief that the rural land in central Virginia is some of the most beautiful on Earth. The area's has so many spots in which to disappear for a weekend, and many are very accessible. Check out Walnut Creek, St. Mary's, Sugar Hollow, Shenandoah National Park, and a host of other scenic spots.
#21 Fried Chicken Central to our love of this city. It boasts a wide and delicious selection of fried chicken joints scattered throughout the city. Yes, some of them are gas stations but eat before you judge. The Shell station on Preston Avenue, the Trading Post south of town, Brown's Chicken on Avon street, Wayside Chicken on JPA, the GoCo and BlackJack's Soul Food Kitchen on Cherry.  Venture out to Madison County and try the Wolftown Store's Chicken or in Nelson, the Chicken Coop…are we forgetting any?
#20 Music Resource Center The MRC is a unique accession for the town; a recording studio/practice space available to anyone between 7th and 12th grade who has a passion for music. It was started in 1995 in the old practice space for the Dave Matthews Band and lets many kids live out their musical aspirations at a young age, with help from some experienced staff.
#19 UVa Basketball UVa's basketball team has started to heat up in recent years, becoming a serious powerhouse in the ACC and a nationally-ranked squad known for their tenacious defense. Coach Tony Bennett has mentored stars like Joe Harris and Justin Anderson while helping the team grow as a unit. It hearkens back to the days of heavy hitters like four-time College Player of the Year Ralph Sampson, or more recently explosive point guard Sean Singletary.
#18 Farm-to-Table The farm-to-table movement is big in Charlottesville. It's the marriage of talented chefs, enthusiastic restaurateurs and patrons to acres of central Virginia farmland and a multitude of small, sustainable organic farms. The result is a culinary aesthetic centered on locally sourced food and healthy, open relationships between restaurants, farmers, and customers. Wouldn't you like to know where your food comes from?
#17 IX Art Park Located in Belmont (affectionately known as the "Brooklyn of Charlottesville"), this open air sensory oasis is rife with sculptures, murals, gardens, exhibitions, and eye-catching crafts. It's free to walk around and a great place to bring kids. At night there are shows at Henley's Auction House. Great slice of culture.
#16 Skyline Drive Beauty is beauty no matter where you're from. Spanning a transcendent 105 miles, Skyline Drive is the crown jewel of the Shenandoah National Park. For most of the drive, it follows the ridges of the surrounding mountains east of the Shenandoah River. The views are majestic year-round, but Skyline Drive is especially inspiring during the fall, when the leaves are changing. A smattering of bright orange and rusty red hues tumble down from the boughs as if meandering drops of rain, coloring the Blue Ridge terrain in kaleidoscopic visages. A great place to bike or drive.
#15 Carter's Mountain This is a must for Charlottesville newbies and remains one of our favorite spots, despite its popularity. It's a good hike with some nice views of Charlottesville, and it has fruit. Like tons of it. Fruit for all seasons. Apples are the flagship, and they make delicious treats like apple butter, salsa, fritters and cider. They also have peaches, pumpkins, and more depending on time of year.
#14 Community Supported Agriculture The land in and around Charlottesville and Albemarle County is home to a plethora of small, organic farms tended by hard-working, dedicated farmers. The best way for these farmers to bring their crops to us and keep money coming in year-round is to start up a CSA program where the consumer gets cheap produce in exchange for paying a wholesale price at the beginning of the season, when a farmer's expenditures are high and their funds are low. Farms like Bellair and Radical Roots offer CSA's and most times you can come to the farm and literally pick your own produce. Now that's fresh.
#13 Dogwood Festival Started in 1950, the Dogwood Festival has been going strong in Charlottesville for a while now. The entire month of April is a celebration Charlottesville's beauty including carnivals, parades and breakfast benefits. Next year will be the 67th annual!
#12 Mix of Local and Corporate Grocery Stores. Charlottesville is at a great place right now with regard to its mix of homegrown and chain businesses. The city has all your beloved big chains. You can grab some Chipotle or Starbucks or patronize inside joints like La Michoacana and Shenandoah Joes (included on this list). We have the mega grocery stores like Whole Foods, Costco, and Wegmans (coming soon!) but you can also pick up some locally-sourced meat and produce from places like Integral Yoga or Market Street Market. It's a have-your-cake-and-it-eat-too kind of feeling.
#11 The Main Street Arena/The Ante Room We combined these two establishments since they technically share the same building, although they are pretty different places. The arena is maybe the only ice rink in Charlottesville proper and features ice skating, curling, hockey and anything else you can do on the frozen water. On the other side of the building facing Water Street, the Ante Room is one of Charlottesville's up-and-coming music venues. They look to cover underrepresented ground in Charlottesville, taking a chance on the goth, punk, noise, metal and hip-hop shows that the mainstream venues are reticent to host. And they offer delicious Haitian cuisine, which is something else you don't really see too often.
#10 UVa This one almost goes without saying. Founded in 1819 by the country's third president, UVa is Charlottesville's premier institution. It's responsible for most jobs in the city, provides reliable healthcare, and helps direct a lot of attention to the area. The steady revenue and influx of new students also helps insulate Charlottesville from less-than-favorable economic climates. That's not to say Charlottesville doesn't have its own cultural identity, because it does. But Mr. Jefferson's University is a big part of what makes this town so great.
#9 Jazz scene Jazz music is alive and well in Charlottesville, with young players emerging from UVa's program as well as from some of the local high schools. There are also plenty of seasoned vets in town, people who have been playing for decades. The hour drive from Richmond probably has something to do with the level of talent in this town. "Like" the Charlottesville Jazz Society on Facebook; they do a great job chronicling the different gigs around town.
#8 Observatory Hill Ever wanted to see the stars real close? Observatory Hill is located in Albemarle County, just outside of Charlottesville and on the peak of Mt. Jefferson. It's home to the Leander McCormick Observatory and a telescope that, at the time was tied for the largest overall telescope and second-largest refractor. The observatory is generally used to teach classes and inform the public about astronomy and its history in Charlottesville. It's open to the public on the first and third Friday of each month for a couple hours.
#7 Spudnuts Potato bread doughnuts. Really, that is the only explanation necessary, but we'll go on and tell you a little more about Spudnuts, located just over the Avon bridge in downtown Charlottesville. Get there early because this place tends to sell out before noon. Their delicious fluffy disks of cake come in cinnamon, blueberry cake, glazed, chocolate.
#6 Record stores Records may be archaic now, but it was never just about the vinyl. It's also about community. With their big, bulky presentation and trademark crackle, vinyl records once tethered the music lover to the physical plane. It put her/him next to other music lovers, and in a position to learn something about what they love. Sure, we have the Internet for that, but the brick-and-mortar record store has a special place in the heart of the music lover. Sadly it's generational. Fortunately, Cville keeps one of the oldest American musical traditions alive with some quality record stores, all of which offer different things. Go to Plan 9 for the range and the deals. Sidetracks has cool folks that'll talk your ear off and some pretty good bargains as well. Melody Supreme has  some rarities and a bunch of new releases (yes people are still putting music out on vinyl). And finally Low, (which is also a vintage shop) has those hidden gems of which you'd never heard.
#5 Proximity Sometimes the best part about home is your ability to get away. It makes coming back home all that much better, and really lets you appreciate the things that make your home special. Living in Charlottesville means you're only an hour away from Richmond, two and a half hours (tops) from D.C., and pretty close to Raleigh, Asheville, and other Southern cities. There's a bus that takes you directly from Cville to New York City as well as direct flights out of the Charlottesville Airport. So many other hangout spots makes Charlottesville that much better to come home to.
#4 WTJU We thought about making this category "Local Radio." After all, there are a wealth of options across the dial, covering many different genres including (mostly country) sports, talk radio, and others. But WTJU is one of the best radio stations this writer has ever come across, in any city, and the fact that it's completely user-supported means you don't get any of the annoying ad spots that make the radio so unbearable and drove humans to invent mp3 players in the first place. They have a diverse, varied offering: jazz, funk, folk, classical, punk, noise, electronic…really anything you could think of. And the DJs know their stuff…they'll surprise even the most discerning listener with choice gems from forgotten eras or new and invigorating tracks.
#3 Accessibility Getting around this place is a cinch. People get by using bikes and public transportation, so you know a drive through town will never take you more than 15 or 20 minutes (traffic notwithstanding). Every city has its rush hour hangups, but the land in Charlottesville is only about 10 miles across. It makes life in the country that much easier when going into the city doesn't take all day.
#2 Bodo's Bagels Quite possibly the supreme realization of Jeffersonian ideology, Bodo's is a veritable mecca for the bagel enthusiast, an oasis for those expatriates who maybe once called New York City home. Founded in 1988, the franchise has three locations: near downtown Charlottesville on Preston Avenue, on the Corner near right across from UVA Grounds, and on Emmet Street. Open at 6:30 am during the week, Bodo's is known for schlepping an incredible amount of coffee and bagels of all different varieties. They feature authentic, NY-style "water bagels," which are boiled just before baking to make them moist and delicious. These bagels are made several times daily, completely from scratch. Despite the incredible taste and texture, Bodo's does not use fats or preservatives. Their flour is always unbleached and unbromated, for health and taste reasons. Their wheat bagels will make you feel better about your choices, and they actually taste great. This quick, fast-casual restaurant boasts many offerings, from breakfast fare to cold cut sandwiches, soups, salads, and dinner omelettes. Grab a pastrami and onion bagel and some cold lemonade for lunch, or a bacon, egg and cheddar and a cup of joe if you're racing off to work in the morning.
#1 Good people Save the best for last, right? People in Charlottesville are awesome, and that's the best part about being here. It mingles everyday small-town Southern charm with metropolitan sensibilities and a thriving sense of culture. People will stop and talk to you, but it might be a conversation about a local organic co-op or the Stevie Wonder show coming up. Bottom line is they'll talk; people here are free of that brisk, big city way of interacting. They have the time to converse. And so do we. If you have any questions about farms or homes in Charlottesville, food, music, or any of the items on this list…talk to us!