Just outside Albemarle County where Route US 15 meets Route US 250 is the unincorporated community of Zion Crossroads. Known by many as an exit off of Interstate 64, Zion Crossroads has seen tremendous growth in the past two decades. Once a sleepy little place with a single grocery store and gas station, Zion Crossroads now boasts large retail stores and plenty of restaurants. And in 2014 a diverging diamond interchange helped to improve traffic flow from the increase of residents and visitors.
Zion Crossroads spreads across Fluvanna and Louisa Counties. It is just a twenty minute drive from downtown Charlottesville, fifty minutes to Richmond, and 2.5 hours to Washington DC.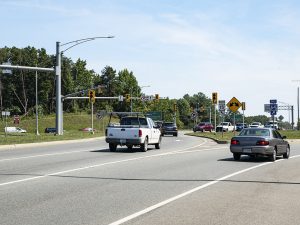 History of Zion Crossroads
In 1928, the Federal Government began work on the US Highway system. Initially, US Route 250 was built through West Virginia and into Ohio. In 1934, the highway was built through to Richmond, Virginia. In the area of modern day Zion Crossroads, the new highway crossed over the existing Route US 15 and became a stop along the way from east to west.
Initially, Zion Crossroads consisted of little more than a grocery store, a restaurant, a gas station and a motel. In the 1970s, Virginia began work on Interstate 64, which added to the thru traffic in the area. 
After I64 was built, the area of Zion Crossroads began to boom. Convenient stores, gas stations and restaurants popped up all around.
In the early 2000s, the area began to grow even more. A Lowe's home improvement store was built, followed by a Wal-Mart Super Center. More restaurants and hotels were added, and eventually the Spring Creek Golf Community Development, a 950 plus acre gated community consisting of walking trails, business park, golf course and other amenities.
Nearby Attractions
The area around modern-day Zion Crossroads has a rich history. Just two miles north, you can find Green Springs National Historic Landmark District, a 14,000 National Park that is home to dozens of buildings, many of which pre-date the Revolutionary War. 
A quick 11 mile trip north will land you in Gordonsville, home of the award-winning BBQ Exchange. 
Spring Creek is home to plenty of shopping and dining and is home to their gorgeous golf course.
The area is home to dozens of picturesque wineries and cideries including Cunningham Creek, Keswick Vineyards and Castle Hill Cidery.
Present Day Zion Crossroads
Today, Zion Crossroads is still booming. In the recent years, UVA Health System and Sentara Hospital have added practices in the area to serve the growing population. The convenience of shopping and restaurants has helped the area grow as well. Residents in nearby Lake Monticello and Villages of Nahoor have all benefited from the area's commercial growth.
In the spring of 2019, construction began on the project of bringing public water and sewage to the area. This, many people believe, will help the area develop even further. The project is scheduled to be finished in the fall of 2020.
Zion Crossroads truly lives by its name – a crossroads of modern day convenience with historic roots. The area continues to grow and remains committed to its rural charm.