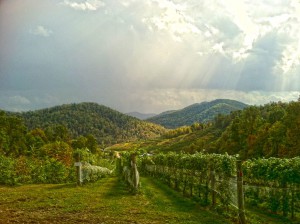 You might as well refer to the land outside Charlottesville as beer/wine country. The rolling hillsides of Albemarle County and beyond are incredibly well-suited to breweries and vineyards. The past few years especially have seen an explosion of craft breweries like Blue Mountain Brewery in Nelson County, the brand spankin' new Pro Re Nata in Crozet, or the flagship Starr Hill which was founded in 1999, technically on Charlottesville land (though now in Crozet). Wine aficionados will appreciate knowing that central Virginia land has robust, exquisite terroir…many compare the farms and pastures of the Piedmont region to southern Italy for this reason. Barboursville Vineyards in particular has become a formidable winery whose influence is not relegated to just Virginia…they move 35,000 cases of wine a year, and Queen Elizabeth II herself has sampled their fares.
If you own land in Albemarle County, a brewery or distillery would be an excellent use of your property. Charlottesville's farm-to-table aesthetic reaches out to many places in central Virginia, bringing farmers, restaurateurs, and local breweries/vineyards together for a culinary culture that is inclusive and community-based. Brewing beer lends itself especially to retired life…there's lots of cleaning, record-keeping, maintenance, and beverage-tasting. Wineries are kind of the same deal. As a pet project, it's the kind of endeavor that requires time and a meticulous attention to detail. But as a landowner, it's an investment in space, resources, and possibly potential. It's not hard to find passionate young amateur brewers, or even seasoned vets who know the ropes. The old joke is that brewing is 90% cleaning and 10% paperwork. If you're looking into this process and you just so happen to live in Albemarle County, we've got that last 10% covered for you here.
First off, we advise you to meet with a staff member from the Albemarle County Zoning board. It's not necessary, but is a helpful first step. You'll also have to get a Virginia farm winery, limited brewery or limited distillery license from the ABC and be up-to-date on all zoning regulations. In certain cases you'll also need to acquire a special permit. You don't need a permit to grow or harvest any of the barley or grapes necessary for production; you don't even need one to sell or store your finished product. However you'll need a special use permit for events with over 200 attendees at a time. For multiple events, attendance is cumulative; so if you have two events with over 100 attendees each, you'll need to have acquired a special use permit.
Getting a special use permit requires a legislative review process wherein the Board of Supervisors considers the impacts on adjacent properties and the effects of multiple uses on the community. It costs $2,500 and takes a minimum of six months to process. To be safe and ready, contact the Community Development Department (CDD) a few months in advance. The special use permit application should include information about the proposed uses/events, and the frequency/duration of these events. You'll also need a sketch plan: a schematic, to-scale drawing of the site. There are minimum setbacks (a setback is the distance of a building from the road, a river, a flood plain, etc.) The front of any building must be 75 feet from public roads and 25 feet from internal public or private roads. The side setback is 25 feet and the rear setback is 35 feet, although you can appeal these minimums to the Albemarle County Board of Supervisors.
You'll need zoning clearance if you're planning on having outdoor amplified music, or any gatherings that will generate over 50 vehicle trips a day or take place on sites under 21 acres. Zoning clearance costs $54 and usually has a 2-3 week processing period. Most events are subject to the 50 vehicle trip/21 acres rules, but just for good measure, we'll list some common events to which these rules apply:
Wine/brewery/distillery festivals, showcases etc.
Club meetings
Tasting seminars and luncheons
Business meetings
Gatherings intended to promote sales
Hosting guest winemakers, brewers, and distillers
Hayrides
Exhibits, historical functions related to beer, wine, liquor
Kitchen and catering activities related to wine, beer, and distilleries
Agritourism
Weddings/wedding receptions
Tours
You also need to allot one 9' x 18' parking space for every 2.5 customers and one parking space per employee at these special events. Contact the Land Use permitting office at VDOT for info regarding access points and entrances.
As far as food is concerned, you can't operate a restaurant at your Albemarle farm winery, brewery, or distillery, but you're permitted to prepare and sell finger foods and appetizers. You can also offer prepared/pre-packaged foods. Check out this Winery Food Service Form or this Food Service Fact Sheet for information on providing your own food. You'll need a food service permit from the Virginia Department of Health. Food trucks are allowed and should have their own Mobile Food Vendor Zoning Clearance. Caterers are also permitted, but must have their own food service permits.
You can have amplified outdoor music, so long as it stays within 60 decibels by day and 55 by night. You need a zoning clearance for outdoor amplified music, which may necessitate examination of the equipment to be used and/or access to a calibrated sound level meter.
Signs are permitted if you follow the guidelines described in the table below:
| | | | | |
| --- | --- | --- | --- | --- |
| Type of sign | # permitted | Max area | Height | Setback |
| Wall | N/A | 40 sq ft | 20 ft | N/A |
| Free standing | 2 | 24 sq ft total, for all the signs | 12 ft | 5 ft |
| Agricultural product | 2 | 32 sq ft total, for all the signs | 12 ft | 5 ft |
| Temporary | 1/street frontage | 24 sq ft. | 10 ft | 5 ft |
So there you have it, a comprehensive look at all the zoning regulations that go into owning and operating an Albemarle County farm brewery, farm winery, or farm distillery. Whether you have a singular passion for delicious beverages or you plan to enlist the services of a veteran brewmaster or sommelier, this guide contains much of the information you need with regards to building clearance, food regulations, music regulations, and advertising, but definitely check with the county authorities early on to see how their regulations impact your goals. Good luck in your ventures! Call Gayle Harvey Real Estate for any questions about land in Charlottesville or farms in Albemarle County or the Greater Charlottesville area.