The town of Madison is the center of Madison County and serves as the county seat. Madison sits at the crossroads of three major highways – US Route 29, State Route 230 and State Route 231.
What's In A Name?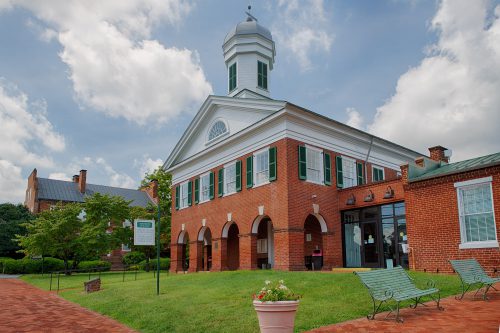 The town of Madison and the county it is located in was named for prominent statesmen and the fourth president of the United States, James Madison. Madison's father was a well-known planter in the area. Madison, himself, served on the Virginia House of Delegates and Continental Congress. His family's home and tobacco plantation, Montpelier, still remains in nearby Orange County.
History of Madison
The town of Madison is still, and has always been known for the rich agriculture it produces. The rural setting has remained since its inception in the 1790s. The area was often traveled through by native people due to its proximity to paths to the Shenandoah Valley. The Royal Governor Andrew Spottswood and even Civil War General Stonewall Jackson has spent time in Madison.
In August 1929, President Herbert Hoover visited the town of Madison and ended up buying land in the mountains nearby. His visit is still celebrated each year.
A handful of buildings in Madison, including the courthouse that was built in 1828, are on the National Register of Historic Places.
Nearby Attractions
Not in Madison, but it's namesake, James Madison's Montpelier's is just up the road in Orange County. Over 2,500 acres of land to explore, you can see where James and Dolley Madison lived in the Virginia countryside, tour their home and grounds, and visit the cemetery where the Madison family is buried.
Yoder's Country Market is more than just a store. Grab homemade baked goods, bulk food, all-natural local meat, sandwiches, a petting farm, and so much more.
Graves Mountain is a beautiful place to go apple picking in the fall, camping during the summer, or host a retreat any time of year. The Graves family has been running the lodge and farm for over 135 years.
Shenandoah National Park is a must-see in the area. The views of the Blue Ridge are unbeatable. With over 200,000 acres of protected land, you will find tons of wildlife and countless hiking trails, and you can take your time driving through the park on Skyline Drive.
Madison, Virginia was the location of two Civil War Battles, both sites you can visit today. The James City Battlefield and Jack's Shop Battlefield can be seen on your own or as part of a Civil War tour in the area.
Virginia is wine country after all, and Madison is home to some great wineries and breweries including Bald Top Brewing Company, Blue Quartz Winery & Shotwell Run Brewing Company, DuCard Vineyards, Early Mountain Vineyards, Prince Michel and Revelation Vineyards.
Present Day Madison
Today, Madison clings to its rich history and rural, agricultural roots. It is part of the Madison County School District and is governed by a mayor and a four-person town council.