Twelve miles west of Charlottesville you'll find the quaint yet growing community of Crozet, a census-designated-place (CDP) in Albemarle County, nestled in the foothills of the Blue Ridge Mountains with an elevation of 837 feet. (Click here to learn more about the origins of the unique name). According to the Charlottesville Area Association of Realtors (CAAR) Neighborhood Report (February 2017), the population in Crozet is growing. At the time of the 2010 census there were 5,565 documented residents. There are now 6,600. In our mild, four-season climate, Crozet enjoys 98 days of full sun per year, with an annual rainfall of 45 inches and annual snowfall of 19.88 inches. Average temperatures range from 20-45 degrees Fahrenheit in January and 65-85 in July. Most residents, CAAR reports, are age 35-54 and most households earn $75,000 – $100,000 annually. The majority of residents work in education and the average commute is 26 minutes. Data collected within the last six months shows that 76% of residents own their home and 24% rent. Most of the dwellings purchased in Crozet at the time of CAAR's report had fewer than 1400 square feet, were constructed within the last 10-20 years, and had three to four bedrooms. The typical price per square foot was $175-200, or less than $300,000 for the total property. However, the median estimated home value was $369,000 and the median list price was $544,000.
Now that you have all of the data, here are some other things you should know about life in Crozet.
Developments
This growing neighborhood development identifies itself as an "urban village," defined as a mix of residential, dining, retail, and recreational buildings and structures, all contained within a walkable environment. The Old Trail Village Center has all of the above, including an ACAC Fitness and Wellness Center that offers classes, as well as cardio and strength training equipment. If you're looking for outdoor activities, there are miles of walking and biking trails, a pool with Blue Ridge Mountain views at the Old Trail Swim Club, and an 18-hole championship golf course at the Old Trail Golf Club.
This is another ongoing development in Crozet, located just off Route 250 West and nearby schools, restaurants, a grocery store, and the amenities of the Old Trail Village.
Open since September 2016, Piedmont Place is a solar-powered multi-use building with several dining options, a yoga studio, a multi-vendor market that includes a bookstore and a local craft brew & wine shop, and residential apartments. It is located just across the street from the new library, something architect Bob Anderson took into account in designing the façade, which pays homage to the library's exterior. Within the Piedmont Place Market, you'll find healthy meals to-go from Morsel Compass, small-batch, hand-crafted ice cream at Crozet Creamery, and nutritional smoothies and organic coffee at Smojo.
Local Dining
In the case of a couple Crozet restaurants, the old adage is true in the best sense: their reputations precede them. Even for newcomers to the Charlottesville area, it won't be long before you hear of Fardowners Restaurant and Crozet Pizza. According to their website, the namesake of Fardowners is "a group of Irish immigrants who labored for the Blue Ridge Railway Co. and helped construct four tunnels through the Blue Ridge Mountains during the decade before the Civil War." The restaurant sits near the railroad tracks that run through Crozet and is in sight of the old C&O railroad depot, which used to house the community library. As part of their mission is to support other local businesses, the Fardowners menu is as locally-sourced as possible. Their menu includes pub standards like burgers and wings, but also hefty salads and innovative twists on traditional mac & cheese. Their brunch menu includes Vegan and Vegetarian-friendly options, too, such as a tofu scramble sourced from Louisa County's own Twin Oaks.
Family-owned Crozet Pizza has been serving fresh pizzas made from their own original recipes since 1977. (It's so good it even made our Top 5 list of pizzerias in the Charlottesville area.) Their House Favorites include "Buddhist Pie" (white sauce, sun dried tomatoes, red peppers, feta, fresh basil), "Meet Me in Crozet" (pepperoni, sausage, meatballs), and "Maui" (bacon, ham, pineapple). You can also order custom pizzas as well as varieties of calzones, salads, and appetizers.
Smoked Kitchen & Tap at Piedmont Place offers slow smoked, hickory BBQ, as well as salads burgers, and sandwiches. And The Rooftop, just upstairs, is Crozet's sky bar with gorgeous Blue Ridge Mountain views, cocktails, and a small plates menu that includes flatbread pizza.
If you're looking for something more filling, there's Restoration at Old Trail Village, which specializes in high-end comfort food. Menu items include croquet monsieur, pan seared salmon, and friend chicken & waffles, which comes with apple cider bacon gastrique and can be further upgraded by substituting duck confit for the fried chicken. In addition to the elegant interior, there is outdoor patio seating that overlooks the Old Trail Golf Club course.
Twice a year, in May and October, the Crozet Arts & Crafts Festival brings its lively and celebratory vibe to Claudius Crozet Park for a weekend of festivities. White tents dot the landscape while local singers and musicians perform, and the air fills with the aromas of foods as varied as kettle corn, funnel cake, fried onions, Thai noodles, and quesadillas.
The Crozet/Western Albemarle Library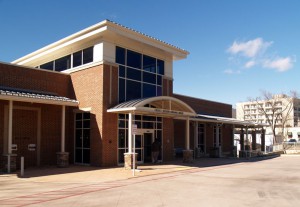 In September 2013, after years of being housed in the old depot, the Crozet/Western Albemarle Library opened the doors to its new, permanent home in downtown Crozet. It has a growing collection and space that allows for 75,000 volumes of books.
This 520-acre park includes four hiking trails, picnic areas and grills, 8 acres of water, and a one-acre beach. Swimming is allowed from 11 a.m. to 7 p.m., Memorial Day weekend through Labor Day, except when county schools are in session. There is a small entry fee for both county residents and non-county residents, or season passes are available for purchase. As long as you have a fishing license, you will also be able to fish for the stocked trout, sunfish, channel catfish, and large-mouth bass.