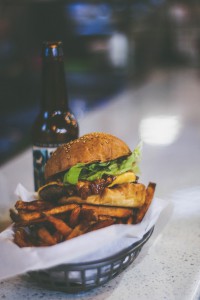 Burgers come in many shapes, sizes, and personalities. One person's favorite burger will not satisfy another. That being said, if you are a burger lover, you will not be disappointed by the burger offerings in Charlottesville, Va. Below are five that are not to be missed.
The Cheeseburger @ Riverside Lunch
This casual, friendly, and reliable local diner offers delicious, classic, old-time burgers and quick service. As their Facebook page extolls, they are "[t]he ORIGINAL Riverside Lunch since 1935 and 'Flat out, STILL the best burgers in town!'" The burgers are compact, delicious, and very satisfying, as are the onion rings. Riverside Lunch is appropriately located a few blocks from the river near Route 250, between Pantops and Downtown, on Hazel St., which is just off E High St.
The Mini @ Citizen Burger Bar
As described on their menu, The Mini's main ingredient is a "4oz griddle-smashed Timbercreek Angus." Add the American cheese, iceberg lettuce, onion, citizen sauce, and a potato roll, and you've got a mouth full of happiness. Citizen Burger Bar focuses on offering local and fresh ingredients and they also have a great vegan patty. They have a big restaurant with a long bar and outdoor seating and they still manage to stay quite busy in their central downtown mall location.
The Zinburger @ Zinburger Wine and Burger Bar
This namesake burger is really a savory treat. You may be unsure what a wine and burger bar would be like, and will be pleased to find a hip, bustling, open space with delicious fare. Their menu shares that this treat is "topped with Manchego Cheese, Zinfandel Braised Onions, Lettuce & Mayo," and it's a full meal. The Manchego sheep's milk cheese is a wonderful, zesty topper. Zinburger Wine and Burger Bar is at Barrack's Road Shopping Center.
The Danny Laruso @ Jack Brown's
The first Jack Brown's was opened near JMU in Harrisonburg, and recently opened up on the downtown mall in Charlottesville.  All burgers are made with all natural Wagyu Beef and come with unique toppings and an amazing special sauce. Our go-to is the Danny Laruso topped with cream cheese and a jalapeno jelly.  Make sure to order a side of fries and a craft beer from their large list.
The Varsity @ Boylan Heights
This organic burger with cheddar, tomato, chili, fried onion rings, hot sauce, ranch, and even jalapenos, is not for the faint of heart or appetite, especially as it comes with a choice of side as well (the sweet potato fries are great). But if you crave a spicy and hearty burger, you'll be glad to try this unique and delicious one from the "Dean's List" section of the menu at Boylan Heights, on the UVA corner.  
If you find that you want to try more Charlottesville burgers, check out the Bison Burger at Beer Run, the Blue Burger at Blue Moon Diner, and the Firefly Cheeseburger with sriracha aioli.