It's March, which means the annual Festival of the Book—now in its 23rd year—will soon be upon us here in Charlottesville. A great time to reflect on the literary culture of our little city. Even on non-festival days, our local bookstores become sites of great intellectual insights and imaginative explorations. Whether this occurs as a private exchange between a reader and an author via a printed book, between fellow readers, or during a reading and Q&A with an author in the flesh. The often modest bookshop storefront provides the doorway to an important cultural institution. And Charlottesville has several from which to choose.
On the Historic Downtown Mall
404 E. Main Street | Charlottesville, VA 22902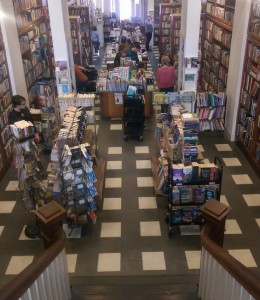 New Dominion Bookshop's claim to fame is that it is the "oldest independent bookseller in Virginia," having been continuously in operation since 1924. The most recent owner, Carol Troxell, purchased the store in the mid-1980s and ran it until her sudden, unexpected death in January. (NPR did a lovely story on Carol and her bookshop, which you can listen to here.) The fate of the bookstore is as yet unknown, but let's hope for the sake of the local literary community it will find a way to carry on without its late beloved owner. New Dominion Bookshop has a long history of hosting authors throughout the year, including during the annual Festival of the Book. It has also been known to employ authors as booksellers, such as novelist Emma Rathbone who authored The Patterns of Paper Monsters (Back Bay Books, 2010) and Losing It (Riverhead, 2016), and poet Kevin McFadden, author of the poetry collection Hardscrabble (University of Georgia Press, 2008). The shop is a deep and narrow gallery of tall shelves packed with new books, rarely any space between titles. Here you can find signed copies of the latest John Grisham novel, classic literature from the English canon, children's books, and a well-stocked travel section. An island in the middle showcases new hardcovers and holds the one cash register, while a few floating book carts around the store showcase distinct categories, like local authors and Pulitzer Prize winners. A steep staircase toward the back of the store leads to the open second story where authors give readings and sign books. This floor also often serves as a rotating gallery of visual art by local artists.
123 Fourth Street NE | Charlottesville, VA22902
Open since 1975, Daedalus Bookshop is the longest running used bookstore in Charlottesville. This unique shop just off the downtown mall is a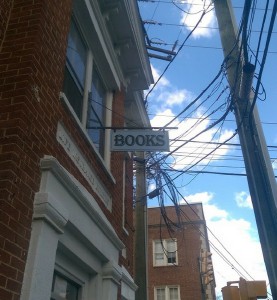 three-story warren filled with, at last count, 120,000 used books meticulously organized and reasonably priced. Ask the owner, Sandy McAdams, about any title and he will likely know off the top of his head whether or not he has it, as well as descriptive details, such as the binding and whether or not it is signed by the author. This is the kind of bookstore you can browse in for hours, meandering through book-lined pathways and peeking into alcoves devoted to entire genres. As C-VILLE Weekly reported in 2015, McAdams moved from New York to Charlottesville in 1974 accompanied by "20,000 books in a railroad car" after purchasing the building at the corner of Market Street and Fourth Street NE.
214 E. Main Street | Charlottesville, VA 22902
A fixture on the mall since the mid-1980s, you'll know it by the signature carts of used paperbacks outside. Inside, Read It Again Sam is a tidy shop with quality used books in great condition and clear designations by genre. If you're interested in unloading some of your own home library, the owner, Dave Taylor, is almost always buying but you might want to call ahead and ask. You can either get cash for books or sign up for some store credit to feed your reading habit.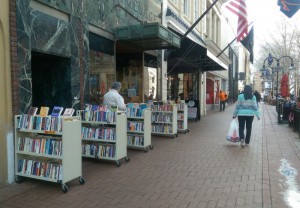 115 W. Main Street | Charlottesville, VA 22902
Each of Charlottesville's bookstores has its own distinct personality and defining characteristics. One of the things that makes Blue Whale Books distinct is the beautiful prints and antique maps they sell in addition to books. The other distinction is Gizmo: the Corgi who spends his time greeting customers with a friendly sniff and lounging in patches of sunlight. Blue Whale occasionally buys used books, but you will need to call ahead first to make sure they're buying.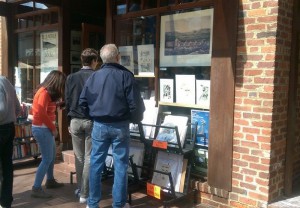 On the Corner
5 Elliewood Avenue | Charlottesville, VA 22903
If you're looking for a charming bookshop in which to browse beautifully bound antique books and affordable paperbacks, Heartwood Books is the place to go—especially if you want to relive the college experience of seeking out used classics. Heartwood is located just off University Avenue on the Corner and the staff is knowledgeable and helpful.
400 Emmet Street South | Charlottesville, VA 22904
Just across from Newcomb Hall and above the Emmet Street parking garage, the university bookstore is a spacious, modern store filled with rows of short shelves displaying the shiny spines of new books. You can find sections devoted to faculty and alumni authors, rows of notebooks and journals to write in, and, of course, lots of UVA memorabilia, too—including beautiful framed photographs of the Rotunda.
On Route 29
440 Twentyninth Place Court | Charlottesville, VA 22901
This shop, with its long rows of tall shelves, is tucked away in an unassuming strip mall called Charlottesville Shoppers World that contains big brand stores, such as Stein Mart, across from the Fashion Square Mall on Route 29. The Book Room sells used books at least 50% off the list price they would be sold at if new, and they have a sale every January. If you are interested in their inventory and also have some books to purge from your home library, they offer a trading service. But one of the best advantages here? Ample parking.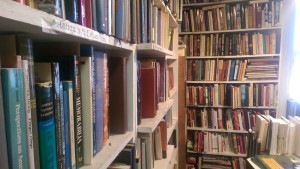 In Crozet
Over the Moon Bookstore & Artisan Gallery
2025 Library Avenue | Crozet, VA 22932
In this cozy shop run by two sisters, Anne and Laura DeVault, you will often find Anne sitting behind the counter, knowledgeable and ready to discuss your favorite books or make a suggestion. If you enter the store with a head full of more titles than you could possible buy, she will even start a wish list for you so that when someone comes in to shop for you, she can pass along the titles of the books you most desire. At certain times of year, she also offers advance reader copies free with the purchase of a book. (These are copies that the publisher sends to reviewers and booksellers in advance of a book's official release date.) And, as the name suggests, this store also functions as a gallery for local artisans, adding to the already lovely aesthetic of a well-kept shop stocked with books waiting to be opened.
In Scottsville
485 Valley Street | Scottsville, VA 24590
At Baine's you can have your book with a side of espresso and quiche, or a pastry made in-house. They describe their small selection of new and used books as carefully "curated," and frequently host book signings with local authors. Their current winter hours run daily until 4 pm. Check their website for updated hours.