In Charlottesville, brunch is for everyone! No matter your taste, whether you're craving a standard American breakfast, traditional Southern grub, Southwestern flavor, or local greens and tofu, you can find almost any style of brunch to satisfy your appetite. Just to name a few:
La Taza (http://latazacville.com/menu/brunch/)
            One of the few locales that offers brunch on both Saturdays and Sundays (7 am to 3 pm), La Taza is tucked away in the quaint area of Charlottesville's downtown Belmont. La Taza, which is Spanish for "the cup," roasts fresh Arabica coffee beans twice a week and describes its cuisine as "Latin-inspired." This is apparent in brunch offerings such as the Guatemalan Breakfast and Huevos Rancheros, but they also offer traditional American fare such as eggs, potatoes, and bacon ("El Gringo"), as well as pancakes, eggs benedict, and biscuits and gravy. Indoors the tables are crafted from tree trunks and outdoors there is a lovely courtyard with seating and umbrellas along a mostly quiet street.
Brazos Tacos (http://brazostacos.com/wp/)
Okay, so this one doesn't technically have a brunch menu, but their regular menu offers many of the ingredients present at most brunches and their weekend hours and outdoor patio make this casual restaurant a fun brunch destination. Their palm-sized tacos are surprisingly filling and can be customized to be vegetarian and gluten-free. The refried bean, mashed potato, and jack cheese taco is especially good, particularly if you add avocado. Brazos' weekend hours are Saturdays 7:00 am – 9:00 pm and Sundays 8:00 am to 3:00 pm.
Beer Run (http://beerrun.com/sunday-brunch/)
Beer Run, located between the Woolen Mills and Belmont neighborhoods, is not only a restaurant and bar, but, as the name suggests, a craft beer and wine shop. Made with seasonal, local, and organic ingredients, their inventive Sunday brunch menu (available from 11:00 am to 3:00 pm) includes French toast strata, Salvadoran bean and cheese papusas, fish tacos, and many other options. You can also order a hearty helping of a Bloody Mary, served in a tall glass with your choice of celery sticks, green beans, or bacon (yes, you can add a strip of bacon). On Saturdays, Beer Run serves breakfast tacos from 8:00 to 11:30 am.
Bluegrass Grill & Bakery (http://www.bluegrasscville.com/menu-1-2/)
Housed in the Glass Building beside the railroad tracks on 2nd Street SE (near the corner of Garrett Street), the Bluegrass Grill & Bakery stays busy every weekend with lines usually out the door. They bake all of their own bread, big country biscuits, and sweets in house and are committed to keeping prices affordable. Their menu includes standards like eggs, bacon, and potatoes, but also more inventive dishes like tofu and Portobello hash. Whatever you order, it is always worth the wait.
Commonwealth Sky Bar (http://www.commonwealthskybar.com/wp/menus/)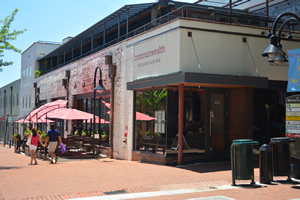 Located on the corner of the pedestrian mall and 5th Street SE, beside Bend Yoga, the Commonwealth Sky Bar offers Sunday brunch from 10 am to 3 pm. Their menu presents an eclectic array of brunch options, including the ostensibly Southern dish of fried green tomatoes, barbeque shrimp and grits, some southwestern flair with their stuffed poblanos, and the famous dish popularized in early 20th-century Harlem: chicken and waffles. While the second story open-air Sky Bar is closed on Sundays, there is an outdoor patio on one side and large windows that slide open in fair weather.
Bizou (http://www.bizoudowntown.com/sunday-brunch)
Occupying a narrow entrance on the pedestrian mall, but with ample indoor vintage seating and outdoor seating with umbrellas, Bizou serves up an elegant Sunday brunch (11:00 am to 2:00 pm) that includes eggs Florentine, hanger steak, salmon, and pomegranate mimosas. This 20-year-old Charlottesville establishment was started by two chefs who continue to have a hand (or two) in preparing the food. Much of the meat and produce are sourced locally, changing with the seasons, and all of the pastries are made in house.
Brookville Restaurant (http://www.brookvillerestaurant.com/)
Located next to The Whiskey Jar and open for brunch on both Saturdays and Sundays, 11:00 am to 2:00 pm, Brookville Restaurant boasts the most locally sourced food of any Charlottesville area restaurant. The farm-to-table menu includes classic egg sandwiches, French toast, and chicken 'n waffles. Run by locals Jennifer and Harrison Keevil and named after Harrison's family farm, Brookville offers a welcoming environment to enjoy homegrown Virginia food.
Fellini's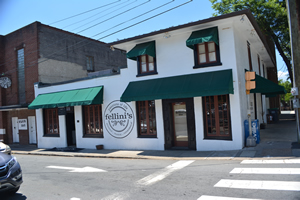 Among the unique offerings of the Sunday brunch menu (11:00 am to 2:00 pm) at this favorite local Italian restaurant are a waffle sandwich (you read that right: bacon, cheese, and egg sandwiched between two waffles), challah French toast, and poached eggs on grilled focaccia. Located on the bustling corner of Market Street and 2nd Street NW, in fine weather Fellini's throws the windows open.
Marie Bette (http://www.mariebette.com/menu/)
This small café specializing in French cuisine houses both a bakery and a dining room that is open for brunch on Saturdays and Sundays from 8:00 am to 3:00 pm. It is tucked away on Rose Hill, just off Preston Avenue, and has ample designated and street parking. The current brunch menu includes a smoked salmon sandwich, baked eggs with asparagus, a pastry basket made in house, and frittatas served in small iron skillets. The breakfast potatoes are especially good, as are the almond chocolate croissants.
Threepenny Café (http://www.threepennycafe.com/#!brunch/cfyg)
In an area known as "Midtown" on West Main Street, the Threepenny Café hosts brunch on Saturdays from 10:00 am to 2:00 pm and on Sundays from 10:00 am to 3:00 pm with both indoor and outdoor seating. Among the unique menu offerings are steak and duck eggs and maple-bacon grits.
Boylan Heights (http://www.boylan-heights.com/brunch/)
Moving towards the University on the Corner, Boylan Heights provides Sunday brunch from 11:00 am to 1:30 pm. Their menu puts a brunch twist on classic American fare with items such as the biscuit sliders, and a touch of childhood nostalgia to appeal to the student crowd with their French toast dipped in Cap'n Crunch cereal.
Pigeon Hole
Open on Saturdays and Sundays from 9:00 am to 3:00 pm, this quaint breakfast/brunch location that operates out of an old house is tucked away on Elliewood Avenue, across from central grounds. As the name suggests, its menu includes Pigeons in a Hole (two eggs over easy in grilled toast), as well as pancakes, French toast, steak & eggs, and the most filling breakfast burrito you'll ever need or want. With prices starting at $7, this is one of the more affordable brunch go-to options.