Historic Oak Grove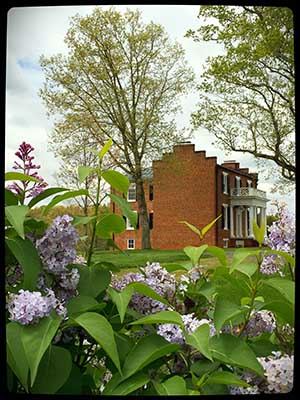 Owning a piece of history is pure pleasure when your particular piece is so beautifully situated ... and meticulously restored. Built about 1854, Oak Grove is today a tasteful composite of vintage quality and modern comfort, with the original brick home in front, a three-story addition in back, and a few other delightful surprises such as the in-ground swimming pool.
From every window are refreshing views of the estate's lush green meadows and woodlands, which surround you with an oasis of privacy and serenity unlike any other.
In 2001 the previous owners completed five years of loving restoration utilizing the expertise of JCG Architects of Charlottesville and Calvin Hickman of Historic Preservation & Restoration from nearby Scottsville. They took extreme care to retain the home's magnificent antique features such as the heart pine floor boards that run the entire length of each room, wood beamed ceilings and six working brick fireplaces. Everywhere you look are charming period details, right down to the antique locks and original window sashes which were re-installed after the windows were re-glazed.
Hidden away inside this historic jewel are all-new, top-of-the-line mechanical systems, including electrical, plumbing and central heat.
The farmhouse style eat-in kitchen combines antique wood cabinetry with 21st century appliances including a double oven. Also added during the restoration was the pool. Its travertine deck and adjacent barbeque/outdoor dining area make a great venue for entertaining by day or night.
With fenced pastures, a large storage barn and a stream running through it, the estate's 131 acres could easily be adapted to equestrian, cattle or other livestock pursuits, whether for commercial advantage or personal enjoyment. A four-bay equipment shed completes Oak Grove's suite of buildings.
Oak Grove was once part of the vast Mount Airy plantation on the James River, and was occupied by Union General Sheridan's troops in the Civil War. This part of Virginia is as idyllic — and nearly as secluded — now as it was then; yet the metropolitan amenities of Charlottesville and Richmond are within easy reach. So is excellent fishing, camping, hiking and several nature preserves just a few minutes drive away. The nearest town is the vibrant and historic village of Scottsville, where you'll find a friendly community spirit and daily necessities.
Privacy, nature's beauty and a genuine piece of American history: If any or all of these qualities are on your wish list, Oak Grove will be your dream come true.

Contact us today to arrange for a private showing.