ONE-OF-A-KIND LAKESIDE RETREAT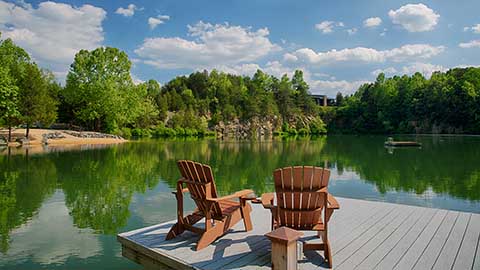 Picture yourself enjoying a morning cup of coffee from an Adirondack chair perched in the treetops overlooking your own private lake. After an alfresco breakfast, hop in the kayak and try to catch Old Joe. Later, join family and friends on your own private beach for fun in the sun. After grilling dinner, head to the dock with a cocktail to watch the sunset. All of this and more are part of daily life at Whetstone Lodge.
If you're looking for a lake house close to Charlottesville, in a private resort setting, then this property is a must-see. The 5,000 square foot home built in 2011 resides on 5.2 private, gated acres and shares an additional 19+ acres of common area with only two other lots. It is a sportsman's dream property where you can scuba dive, boat, fish, hunt and shoot without ever leaving home. This is a rare opportunity to purchase your own "little slice of paradise".
---
INTRODUCTION
Whetstone is a 35-acre, three-lot community that was once part of a granite stone quarry operation. The gravel manufactured on site was used to build Interstate 64. Since mining ceased in 1970, Mother Nature took over and transformed the property into a stunning park-like setting. Whetstone gets its name from the beautiful granite cliffs adjacent to the calm deep waters of the lake. For sale is a beautiful home built on one of these parcels, which the owners have named Whetstone Lodge. It's a unique, charming and low-maintenance property located just two exits East of Charlottesville and only 45 minutes to Richmond's West End. Its formal address is 2046 Rock Quarry Road, Louisa, Virginia. Geographically it is just 3 miles east of Zion Crossroads and just north of Route 250 and I-64.
---
---
THE SURROUNDING AREA
The Whetstone property is directly adjacent to the Green Springs National Historic Landmark District; a contiguous, privately-held conglomeration of properties totaling roughly 14,000 acres renowned for its unusual concentration of historic rural structures, bucolic pastoral vistas and fertile soils. There are no less than thirty noteworthy historic buildings; six of which are listed on the National Historic Register. It should, therefore, come as no surprise that Whetstone is bounded by large, agricultural tracts of land. To the west is a several hundred acre horse farm. To the north the owners of the 100-acre farm dabble in beef cattle. On the east side is a very large parcel where both trees and organic livestock and vegetables are raised and sold. And to the south are nearly 100 wooded acres still owned by the quarry business, Vulcan Lands. A little over ½ mile north Rock Quarry Road intersects Route 613, Poindexter Road. Poindexter Road is listed as a Scenic Byway and is a perfect venue for biking. Numerous other state roads, some paved, some gravel, emanate from Poindexter Road, which provide access to some of the most beautiful scenery central Virginia has to offer.
---
THE PROPERTY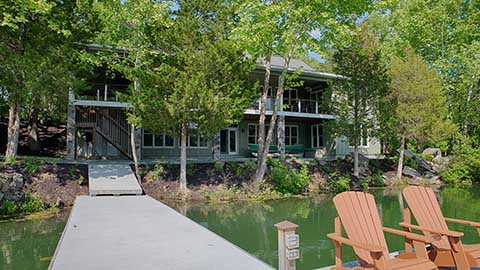 The owners were seeking a place to build a casual, low-maintenance lakeside home and after years of searching for the right piece of land they stumbled across this unique property. In 2006, they purchased the 35 acres that they dubbed "Whetstone" and set about planning. They rezoned the former industrial property and subdivided it into three lots of 5.2 acres each. All three lots front on, and include, part of the lake. Two of the lots reside atop the granite cliff on the high side of the quarry. These two parcels share a private road driveway and the owners sold these lots prior to beginning construction of their home. The owners kept what they felt was the best lot for themselves. It sits by itself on the opposite side of the lake and is served by its own driveway. Here, on the North side of the lake, the building site is close to the water surface and, indeed, the house is surrounded by water…the lake, a series of ponds and Foster's Creek. It is truly a private and secure setting.
---
UPON ARRIVAL
Whetstone Lodge is served by its own private, gated drive. A winding gravel lane affords glimpses of the house and lake along the way. On approach to the home, one passes the garden compound that supports fenced, raised beds, a water supply system and composting bin. There is plenty of additional flat, graveled area to add a barn, greenhouse, sheds and to store an RV.
After passing the garden, the driveway then resides on a wooded, manmade levee. On one side is the lake and running parallel, on the opposite side, is beautiful Foster's Creek whose lazy babbling greets you when you exit your vehicle. Guest parking is available on either side of the driveway as you near the house.
The lot was almost entirely wooded prior to construction of the home. A small open lawn area resides either side of the drive just as you enter the gate. A berry patch has been installed here. Sycamores and cedars predominate the landscape. The white-mottled bark of the sycamores are in stark contrast to the evergreen of the cedars making the general landscape quite interesting year-round. In fact, the colors for the exterior of the home were adopted from the bark of the sycamore.
As one approaches the home, beech, sweetgum, maple, tulip poplar and oaks begin to appear. The owner is a landscape architect, but chose to exercise considerable restraint when installing plantings around the home. Boulders from the property were introduced into casual planting beds and then white-barked birch trees placed as anchoring elements. Several smaller trees such as dogwoods and redbuds were introduced and rhododendron, azalea, hydrangea and a limited palate of perennials make up the understory. It comes close to being a no-maintenance landscape and there remains ample opportunity to add to this palate.
---
THE HOUSE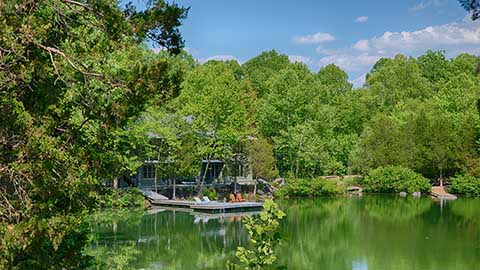 The owners had always been impressed with house plans featured in Southern Living magazine and one day at the store checkout counter there was a special edition of Southern Living featuring their most popular home plans. They became enamored with a plan called Tidewater Haven. Its exterior of board and batten siding, exposed stone fireplaces and massive wrap around porch seemed to suit their casual lifestyle and the natural surroundings. With some minor reconfiguration of space, they were able to create a one-level floor plan that took advantage of the spectacular building site. The main living space is open-concept consisting of a family room, dining area and kitchen. These three spaces and the adjacent master suite all front on the lake and enjoy spectacular views of it through a wall of windows on the South side. Two additional bedrooms on the North side of the main living space share a Jack-and-Jill bathroom.
An attached, generous two-and-a-half car garage forms an L-shape with the home. The hallway connecting the house to the garage serves a powder room, bunk alcove, home office, an off season closet, mud room and large laundry room. This main level of the house constitutes 2,200 square feet. The garage is large enough to comfortably accommodate two automobiles and one or more motorcycles. Above the garage is a self-sufficient, 600 square foot, one-bedroom apartment with a full kitchen and washer/dryer hookups. All bedrooms currently support king-size beds.
The home's lower level is also 2,200 square feet and resides 6' above the lake surface. 100 square feet of the lower level is set aside as the mechanical room. An additional 200 square feet serves as unfinished storage space with built-in shelving. The remaining 1,900 square feet supports a full bath, a large sauna, a home gym and roughly 1,000 square feet of flexible-use space. Here again, the South wall facing the lake is all windows that allow sunlight to pour into these spaces. Awesome views of the water are to be had from anywhere in the gym or flex space. Interior barn-type doors create an 11' x 13' private area that is now used as the poker room. It could easily be used as a wine cellar, bunk room or other special use. French doors provide on-grade access to the water's edge and the home's private boat dock. Covered stairs connect the upper deck to this lower terrace level. Just outside the gym are the hot tub pavilion and outdoor shower. A private fire pit is also located here. Off the driveway, adjacent to the garage, but screened from view is a large masonry smoker, perfect for preparing meals for large gatherings. The main grilling area is located on the covered deck.
---
OTHER SPECIAL FEATURES OF WHETSTONE LODGE
Remotely-controlled gated entry to property
Large propane-powered generator to provide backup electrical service to all key systems
Propane lines to grill area on deck
1,300 sf wrap-around deck w/ 4 ceiling fans
Indoor and outdoor wood-burning fireplaces
High-efficiency, 3-zone Trane heat pump
Sophisticated, multi-stage water treatment system and RO water to kitchen sink and refrigerator
Rennai on-demand hot water unit
Hot and Cold exterior water spigot at garage
All interior cans lights are LED
Ceiling fans in all bedrooms
Built-in Bunk Beds
Large Bookshelves
Granite surfaces throughout
1/3 ownership of HOA's zero-turn mower
Ownership of a large stockpile of granite boulders
HOA permission to construct a barn or workshop for personal use in the barn complex
HOA permission to apply for County permit to operate the home as a B&B.
---
COMMON AREAS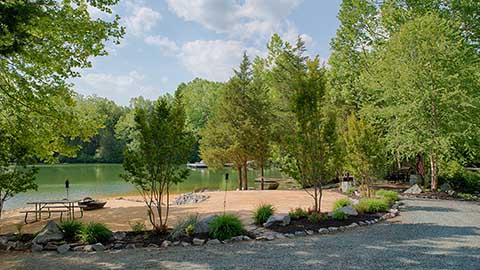 The three residential lots within Whetstone are buffered from adjacent properties by common area. The common area also extends into the core of the property to include a portion of the lake, as well as Foster's Creek and a series of small ponds that have been daisy-chained together and are connected to the lake. The lake and ponds support a healthy population of game fish. An aeration system has been installed on the bottom of the lake by Solitude Lake Management. A private sand beach with pavilion, fire pit, boat dock and swim platform are located across a foot bridge just steps away from the home. The owners have hosted numerous parties and similar events, many with live music. Fourth of July fireworks are a lakeside tradition and several Polar Bear swims have also been held at Whetstone.
The ponds are adjacent to the pavilion and beach and they surround a flat grassy area referred to as 'The Island'. A second bridge near the hot tub provides direct access to this area, which can be used for a variety of recreational purposes. The current owners practice their golf short game in this location. They also practice their longer irons by hitting floating golf balls from practice mats they take to their dock.
Another unique feature of Whetstone is that it has its own gun range. Included at the range are a 100 yard rifle facility, accommodations for pistol and archery practice, and a layout for both trap and skeet. A small separate parking area has been created for these uses.
The owners of the lots in Whetstone are members of a property owners association (HOA) and work together to maintain the common areas within the community. Maintenance is quite minimal; consisting primarily of lawn mowing and maintenance of the beach. Each lot owner contributes $100 per month in dues to the association to pay for materials and supplies required for property upkeep.
---
ACTIVITIES AT WHETSTONE • Swim • Fish • Kayak and Canoe • Paddleboard • Scuba Diving • Sunbathing • Camping • Golf Practice • Gun and Archery Activities • Parties • Hot Tubbing/Sauna • Workout • Grilling/Smoking • Gardening • Biking
Contact Gayle today for your personal tour!
See Additional Documents
Covenants and Restrictions
HOA Documents
Whetstone Lodge Permissions