ONE-OF-A-KIND LAKESIDE RETREAT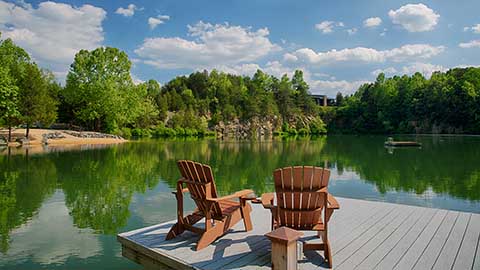 Picture yourself enjoying a morning cup of coffee from an Adirondack chair perched in the treetops overlooking your own private lake. After an alfresco breakfast, hop in the kayak and try to catch Old Joe. Later, join family and friends on your own private beach for fun in the sun. After grilling dinner, head to the dock with a cocktail to watch the sunset. All of this and more are part of daily life at Whetstone Lodge.
If you're looking for a lake house close to Charlottesville or Richmond, in a private resort setting, then this property is a must-see. The 5,000 square foot home built in 2011 is private and has gated access. This is a rare opportunity to purchase your own "little slice of paradise".
---
---
---
THE SURROUNDING AREA
The Whetstone property is directly adjacent to the Green Springs National Historic Landmark District; a contiguous, privately-held conglomeration of properties totaling roughly 14,000 acres renowned for its unusual concentration of historic rural structures, bucolic pastoral vistas and fertile soils. There are no less than thirty noteworthy historic buildings; six of which are listed on the National Historic Register. Nearby Poindexter Road is listed as a Scenic Byway and is a perfect venue for biking. Numerous other state roads, some paved, some gravel, emanate from Poindexter Road, which provide access to some of the most beautiful scenery central Virginia has to offer.
---
---
THE HOUSE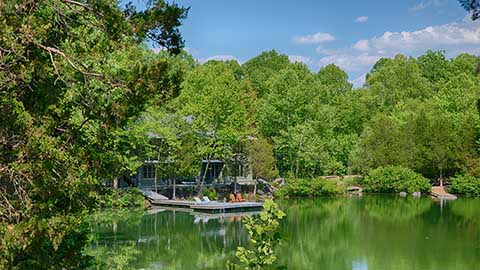 The main living space is open-concept consisting of a family room, dining area and kitchen. These three spaces and the adjacent master suite all front on the lake and enjoy spectacular views of it through a wall of windows on the South side. Two additional bedrooms on the North side of the main living space share a Jack-and-Jill bathroom.
An attached, generous two-and-a-half car garage forms an L-shape with the home. The hallway connecting the house to the garage serves a powder room, bunk alcove, home office, an off season closet, mud room and large laundry room. This main level of the house constitutes 2,200 square feet. The garage is large enough to comfortably accommodate two automobiles and one or more motorcycles. Above the garage is a self-sufficient, 600 square foot, one-bedroom apartment with a full kitchen and washer/dryer hookups. All bedrooms currently support king-size beds.
The home's lower level is also 2,200 square feet and resides 6' above the lake surface. 100 square feet of the lower level is set aside as the mechanical room. An additional 200 square feet serves as unfinished storage space with built-in shelving. The remaining 1,900 square feet supports a full bath, a large sauna, a home gym and roughly 1,000 square feet of flexible-use space. Here again, the South wall facing the lake is all windows that allow sunlight to pour into these spaces. Awesome views of the water are to be had from anywhere in the gym or flex space. Interior barn-type doors create an 11' x 13' private area that is now used as the poker room. It could easily be used as a wine cellar, bunk room or other special use. French doors provide on-grade access to the water's edge and the home's private boat dock. Covered stairs connect the upper deck to this lower terrace level. Just outside the gym are the hot tub pavilion and outdoor shower. A private fire pit is also located here. Off the driveway, adjacent to the garage, but screened from view is a large masonry smoker, perfect for preparing meals for large gatherings. The main grilling area is located on the covered deck.
---
---
ACTIVITIES AT WHETSTONE • Swim • Fish • Kayak and Canoe • Paddleboard • Scuba Diving • Sunbathing • Camping • Golf Practice • Gun and Archery Activities • Parties • Hot Tubbing/Sauna • Workout • Grilling/Smoking • Gardening • Biking
Contact Gayle today for your personal tour!