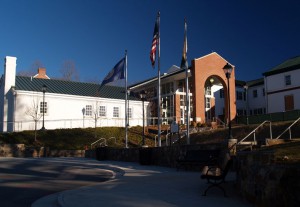 Nelson County makes its home in the Greater Charlottesville area, which means it has access to most of Cville's metropolitan pursuits, including big-ticket sporting events, world class food, state-of-the-art movie theatres, and high profile concerts. But you won't need it, because this almost 500 sq mi of land southwest of Albemarle County is one of the most beautiful places in America, with some truly awe-inspiring, unencumbered views of the vast and mighty Blue Ridge Mountains. Nelson County was founded over 200 years ago, in 1807. It was named for Thomas Nelson, Jr., a Founding Father, member of the Continental Congress, governor of Virginia, and founder of the Declaration of Independence. Technically there are no cities or incorporated towns in Nelson, only unincorporated communities. We'll tell you about some of them here, and explain the stories behind their names.
Afton
Afton is a beautiful stretch of land on the foothills of the Blue Ridge Mountains. Its history likely dates back to the 19th century, when Claudius Crozet (namesake of the central Virginia town) built a series of tunnels to get a railroad line through the Blue Ridge Mountains at Rockfish Gap. The largest of these tunnels was the 4,723 foot long Blue Ridge Tunnel, an engineering marvel that was the longest tunnel in America at the time. Afton is very near the east end of that tunnel, and local legend holds that Crozet himself suggested the name to railroad officials, probably getting inspiration from Little Afton, a stream in his home of Brooksville. Blue Mountain Brewery is one of Afton's mainstays, a testament to homegrown, local food and drink, and an example of Charlottesville's farm-to-table aesthetic at work.
Arrington
This small community is probably most celebrated for hosting the Lockn' Music Festival every fall on the Oak Ridge estate. Its etymology was a little tough to pin down, but we have a pretty good guess: There appear to have been several people named Arrington in Virginia in the 18th century, many of whom lived and died in Campbell, VA (on Albemarle County land). Perhaps the name of this small village has something to do with them.
Lovingston
Founded in 1807 along with Nelson itself, this community of just over 500 people
has been the county seat since 1809, when the courthouse was built. By the way, that courthouse is still in use today, and its original jailhouse was designed by Thomas Jefferson himself. A 30-acre piece of land was given to the Lovings, an influential family in the area; in turn they gave their name to the community.
Massie's Mill
Likely named for Revolutionary War Veteran Thomas Massie or one of his descendants, possibly William Massie, whose well-preserved personal letters are the subject of much historical inquiry. Thomas Massie moved to Nelson County in the early 19th century, and his records indicate he "held sway over a diversified system of grain milling and plantation operations that grew into a substantial operation under the management of William Massie" (Stampp 2). It was at ground zero for the devastating Hurricane Camille, considered one of the worst natural disasters to hit the Commonwealth. All of Nelson County was affected, but Massie's Mill was among the most affected communities.

Nellysford
The Wintergreen Resort on the eastern slopes of the Blue Ridge Mountains makes its home in Nelson County, in this community. The legend goes that a woman named Nelly drowned trying to cross (or "ford") a stream somewhere in the Rockfish Valley area. Now it's home to some of the more popular breweries in central Virginia; Bold Rock Hard Cider, Devils Backbone, and Wild Wolf Brewery.
Schuyler
Originally called Walker's Mill, the little village was renamed Schuyler in 1882; both names were in honor of Schuyler George Walker, a miller and the town's first postmaster. Towards the end of the 19th century, Schuyler was known for its stone cutting plant, which milled soapstone from nearby quarries on behalf of the Alberene Stone Company. It was hit by the Great Depression and this industry was decimated. This is also the birthplace of Earl Hammer, Jr. a writer who based the CBS television show The Waltons on his experiences growing up in Depression-era Schuyler.
Works Cited
Stampp, Kenneth M., ed. "Records of Ante-Bellum Southern Plantations from the Revolution through the Civil War." The Journal of American History Series G: Selections from the Barker Texas History Center, University of Texas at Austin, Part II 76.4 (1990): 1342. University Publications of America. Web.