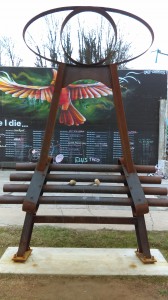 When we think of living in Charlottesville, our minds tend to conjure up of images of vineyards, breweries, restaurants, sporting events, and high-profile concerts. But there are a few unconventional, out-of-the-way places that have found a home in Charlottesville. We'll share our favorites here. 
Twisted Branch Tea Bazaar
Known affectionately as "The Tea House," this place and its many hats have been around since 2002. They probably have the city's biggest selection of tea, a seasonal selection of about 40 different teas from all over the world. It's also Charlottesville's only hookah bar, and you'll probably catch a whiff of traditional Turkish tobacco or a house blend on your way to the bathroom or the back patio. The space and atmosphere are carefully cultivated, whether it be the array of comfy armchairs, the floating wire baskets of fruit, or the "tree," whose titular, twisted, papier mache branches house stone statuettes, ancient teapots, and books (many about tea). With the exception of one item, their menu is completely vegetarian, with a slew of delicious vegan options as well. And on many nights, expect to catch some live music from some of the most substantive and original underground musicians on the scene–anything punk to hip-hop to indie. 
IX Art Park

Pronounced "-icks," not "nine," the IX art park is quite unlike anything else the city has to offer. It's located in the Belmont neighborhood of Charlottesville (considered the "Brooklyn of Cville" by many), and accessible to anyone from dawn to dusk. Nearly everything you encounter is an exhibit, from the sweeping, variegated murals, to the lifesize windchimes, to the stairs painted like black and white piano keys. At its best, IX is home to a community-minded aesthetic that positions the artist and the audience in the same space. The actual park is outdoors, but it's flanked by a handful of other shops: a taco joint, a bike shop, and Henley's auction. The latter deserves its own mention, for having one of the most diverse, far-flung, and at times bizarre collection of antiques, doo-hickeys, knick-knacks, and doo-dads in town, and for having killer electronic/DJ shows on the weekends.
The Bridge PAI
The Bridge Public Arts Initiative began as an ideal, an attempt to marry the ideas of art, expression, creativity with community and civic engagement. They do this by hosting studio art exhibitions, spoken word and poetry performances, and live music out of an awesome space in Belmont. It was founded in 2004 and received non-profit status in 2010. Currently on display: Beyond the Single Story: Using Analog Hypertext to Explore Multiple Perspectives in an Object Study Gallery, an exhibit which displays audience commentary (most often via Post-it note) alongside pieces of art…on display until January 23. The goal is to foster civic relationships through art (any medium). Pretty cool idea.
The Alley Light
Okay, so we did explicitly mention that ideas of living in Charlottesville are inexorably linked to vineyards, breweries, and class bar/restaurants (like this one). So it feels slightly hypocritical to include the Alley Light on this list, but this out-of-the-way place earns a spot due to the fact that it's virtually hidden. Right next to Revolutionary Soup on 2nd street, off the pedestrian downtown mall, and through (you guessed it) a dimly lit alley, this location cultivates the atmosphere of a 1920s speakeasy, due in part to the soft lighting and down-tempo jazz music. There is something exclusive (but not exclusionary) about a bar whose entrance is concealed…even though anyone can go, it feels like you're complicit in something slightly mischievous. Enjoy some tasty French cuisine and one of their trademark Mary Lou Mules, a Southern twist on the Moscow Mule cocktail, complete with a copper mug.
Gorilla Theater
Live theater is a lost art, a voice long-since drowned out by the roar of television, the Internet, and Hollywood. But there is no substitute for the spontaneous, improvisatory nature of the stage; being privy to real humans emoting and expressing, mere feet away…it's a beautiful thing. This small, DIY theater is on Allied St., close to the 250 bypass. The actors, actresses, and directors make little money (and are usually volunteers) who want only to hone their craft and share their gifts with others. These are folks who take chances on original material, people whose gratification comes more from developing a quality performance and less from having people "appreciate" that performance via social media outlets. The shows are a good time, with cheap wine and snacks, and since half the audience ends up being actors/crew, you can get up close and personal after the final act. Speaking of which…the next performance is a stage adaptation of Pride and Prejudice, playing the last two weekends of this month. Check it out!
Low
Low might be one of the coolest parts about living in Charlottesville. As a consignment shop, its offerings toe the line between quirky and compelling threads you'd never seen before, and reasonably-priced, extremely fashionable stuff you could wear anywhere. As a record store, it's got some of the most obscure titles you've ever seen, little-known gems from forgotten eras, and some roughed-up, original pressings of some of your favorites. We all know that maintaining a record store is a difficult and rarely profitable venture, especially with old releases that aren't as commercially viable, so seeing people doing it (and doing it so well) gives us hope.
 Atlas Comics
BOOM! BZZRRT! KA-POW! Walking into Atlas, the first thing you'll see is an array of blown-up onomatopoeias on the wall. They lend themselves to what ends up being a pretty immersive comic book experience. This store is for anyone who laments the death of the graphic novel. You'll quickly see why the art is alive and thriving, with modern-day imaginings of all your old favorite DC and Marvel characters and universes, alongside new heroes and worlds. We even checked out a newer title called Darth Vader and Friends, and it was hilarious. Atlas has been around for a while, and they'll be here for much longer, albeit at a new location.