Fridays After Five is a late spring/summer concert series hosted by the Sprint Pavilion (formerly the Charlottesville Pavilion). It's held–you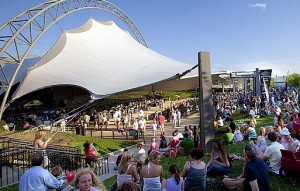 guessed it–on Fridays at or after 5:30pm, so everyone has time to get off of work and stash that tie somewhere until Monday morning rolls around. It's also free of charge, which makes it a popular destination for younger people. Normally, the Pavilion is a popular attraction for nationally-touring acts like the Avett Brothers, Modest Mouse, and Crosby, Stills, and Nash. But on Fridays, local and regional bands ascend the stage, taking advantage of the top-notch tech crew and wide, diverse turn out to expand their listening base. There is a breadth of attendees at this event: disaffected high schoolers enjoying the weekend; middle-aged folks gettin' down to the music, glass of wine in hand; wide-eyed toddlers soaking in their formative live music experiences; to attentive 20-somethings scoping out some local Charlottesville music. In addition to great tunes by some great regional acts, there are also several different vendors and carts. The Pie Guy serves up Australian interpretations of some of your favorite sweet and savory pies. Or grab some quick, tasty tacos from the Morsel Compass food truck…fish tacos with beer-battered cod, or Jamaican jerk chicken with mango salsa and black beans…yum. Not to mention Carpe Donut, with its potato bread doughnuts and refreshing lemonade. There is also a plethora of beer and wine vendors, most notably Starr Hill (the big local), Goose Island, and Fat Tire. This is a great way to kick off a weekend in Charlottesville. The event is on the Mall so you'll be able to meet some friendly people and get a jump on your Friday night festivities, all while enjoying some great tunes in a breezy open-air environment.
Favorite act: Gina Sobel & the Mighty Fine
Favorite snack: Carpe Donut's "The Frodo": a heaping scoop of frozen yogurt sandwiched between two halves of a delicious cinnamon doughnut.